Nagarik Aawaz is a peacebuilding organization inspiring youth and women leaders and helping communities sustain peace. "Save Seeds, Build Immunity, and Provide Safety Net."
– Rita Thapa, Founder of Nagarik Aawaz
Dear Respected All,
Last week, a lot of people reached out to Nagarik Aawaz for help. The second phase of lockdown is pushing people to the brink of starvation. In the coming weeks many more vulnerable families are going to face this destitution. Last year the local government provided ration to the people in their areas. There is no preparation by the government this year.
Nagarik Aawaz believes in providing social safety net to people who are vulnerable and has been doing so since its establishment. It is a minimum welfare concept, so that we can save people's lives in desperate times. These supports can be a small help in paying medical bills, travel expenses, food, education costs, shelters and even cost for funerals. These small supports give hope to people in difficult times.
We created a fund 'Sahara Kosh' in 2001 to address the emergency needs of people. This fund helped many displaced women and youths during the armed conflict. It was also crucial during the 2015 mega-earthquake to start the relief immediately. Currently, through this fund we provide monthly medical support to 9 women who were sexually tortured during the time of conflict. In 20 years, we have provided a small but crucial support to thousands of people. 
Covid-19 has totally overwhelmed the sluggish government institutions and the situation is getting worse. People are losing jobs, need medical support, and are starting to starve. It is important to do something right now. We have already supported a few families, but the need is immense, and our fund will not be able to handle the need.
We need your help to make this fund stronger and extend our support to people who desperately need it. We might be their only hope.
It will be crucial in keeping our communities and people alive.
In Peace,
Dr. Susan Risal
Chief Executive Officer
Nagarik Aawaz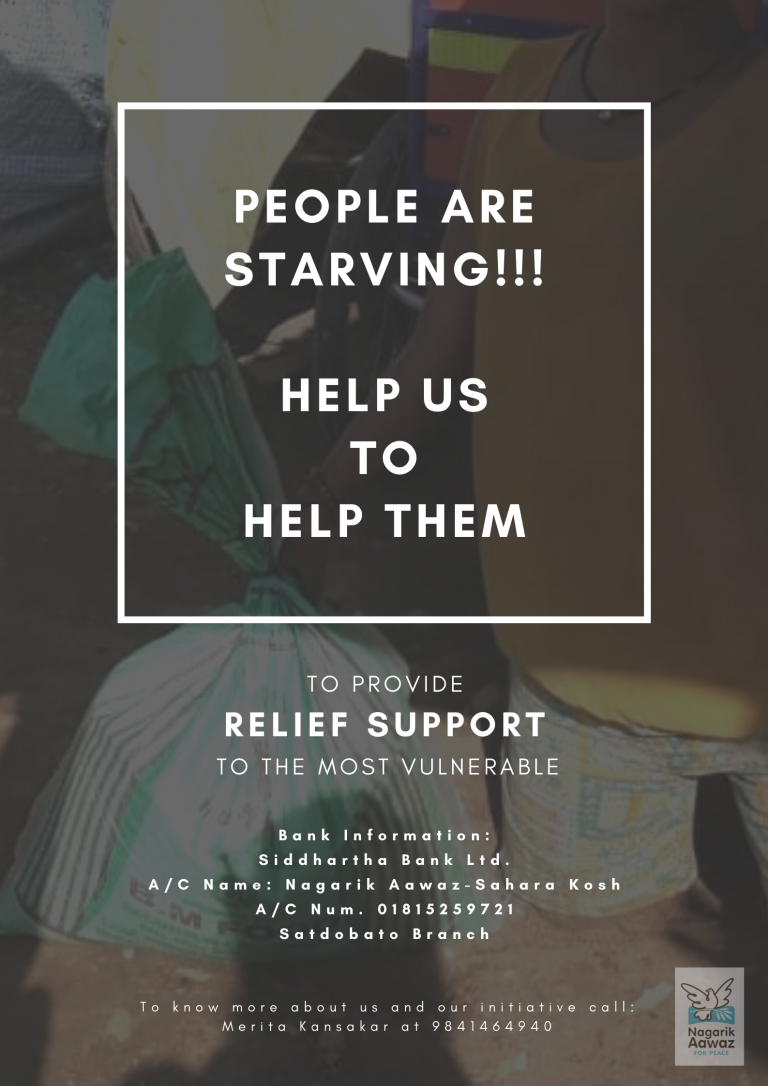 Dr. Susan Risal (CEO) of Nagarik Aawaz in this documentary tells us why Nagarik Aawaz is working to help conflict-affected women who were sexually tortured after 15 years of its end? We travel to Rolpa, Dang, Bardia, and Kailali districts where Nagarik Aawaz is implementing the program called: Building Leadership for Women, Peace, Security, and Equity. It is helping for the social and cultural establishment of the 100 women who faced: sexual violence, torture, and women whose husbands were disappeared in the time of conflict. It is financially partnered with ifa-zivik, Germany. To promote sustainability, ownership, and leadership Nagarik Aawaz is partnering with Nepal Women Community Service Center (NWCSC) and Tharu Mahila Uthan Kendra (TWUC).
We aim to build space to remember past injustices, heal and learn from Nepal's armed conflict; and also serve as a space in which to facilitate ongoing multi-dimensional peacebuilding efforts & learning within Nepal, in the region, and even worldwide. It will be a durable peacebuilding entity for the region. We aim to complete it by 2025.
नागरिक आवाजको पहलमा निशुल्क टेली प्राथमिक मनोपरामर्श सेवा!!!​
give a listen to our podcast
In this podcast series, we discuss the cross-cutting issues regarding the peace and non-violence movement of youths, women, and other groups in Nepal. With our host Ms. Shikha Bhattarai.